INTERNATIONAL HOUSE OF PRAYER
Koblenz
CHURCH FOR BIBLICAL DISCIPLESHIP
Introduction

INTERNATIONAL HOUSE OF PRAYER Koblenz

Characteristics:
We are a church with an daily biblical discipleship training program.

We started in April 2011 and experienced GODs presence in wonderful ways since then on daily bases.

Our primary call is to live as a real community for biblical discipleship.

Our real assignment is to fulfill the greatest commandment of all:


"Thou shalt love the LORD thy GOD with all thine heart, and with all thy soul, and with all thy might."

(5.

Mose 6:5)

Personal growth while daily experiencing the presence of the HOLY SPIRIT.

Reaching out to an increased

living understanding of GODs WORD.

Wholehearted desire to focus on the Great Commandment (Mt. 28; 18-20).

100% convinced about the fact, that Biblical discipleship can only be lived in unity with the apostolic teachings.

Ioning the passion of JESUS CHRIST to pray for the healing of the sick.

Counseling captured souls, who want to break free from destructive habits.

Develop an honest life style in GODs Grace.

Whole range of fighting for the reconciliation of peoples lifes with GOD.

Helping weak people by the overwhelming Grace of GOD to love back JESUS.

Practise worship in daily devotion and adoration of GODs holy face.

We are not conviced by week-end one-day activists a weekend-relationship. HE is a daily GOD.

Mat 28:18-20 And JESUS came and spake unto them, saying, All power is given unto ME in heaven and in earth. Go ye therefore, and teach all nations, baptizing them in the name of the FATHER, and of the SON, and of the HOLY SPIRIT: Teaching them to observe all things whatsoever I have commanded you: and, lo, I am with you alway, even unto the end of the world. Amen.

Under apostolic leadership all disciples are taught daily for several hours in biblical teachings, from monday to sunday we have worship services. People who are realy devoted to GOD are trained to live worthy of the kingdom of GOD. Daily people are saved from fleshly desires, the malice of the heart, demonic oppression, bitterness, worldly lusts through the power of the NAME OF JESUS CHRIST, our LORD.
Mat 16:18 And I say also unto thee, That thou art Peter, and upon this rock I will build MY church; and the gates of hell shall not prevail against it.
The sick are healed in the Power of GOD, people are restored in their first LOVE for JESUS and serve as anointed prayer servants.

Since April 2011 we worship our HEAVENLY FATHER with a precious but small team for several hours daily. Our goal is the restoration of the "Tabernacle of David" - a concrete place of worship in the natural realm with an open heaven 24 hours/ 7 days a week (Act. 15;16). We reached the five hour mark / 7 days a week in active fellowship of disciples.


o Foundational for our church is to lead people into a "heart to heart"- relationship in living intimacy with JESUS our Bridegroom-GOD.
Specific is our commitment to raise up forerunners, who will proclaim the SECOND Coming of JESUS in GOD´s power and in HIS authority. Signs and wonders shall be increasingly released through their ministry of the gospel under apostolic prayer support. (Mk.16,17f.)


A. We need a fivefold ministry in the HAUS DES GEBETES FÜR ALLE VÖLKER Koblenz


Eph 4:11-13 And HE gave some, apostles; and some, prophets; and some, evangelists; and some, pastors and teachers;
For the perfecting of the saints, for the work of the ministry, for the edifying of the body of CHRIST: Till we all come in the unity of the faith, and of the knowledge of the SON OF GOD, unto a perfect man, unto the measure of the stature of the fulness of CHRIST:


We will build up a fivefold ministry in HIS church

1. Apostels
2. Prophets
3. Evangelists
4. Pastors
5. Teachers
o All these ministries work together, so that all saints will grow daily to the full stature of CHRIST. The spiritual support of forerunners needs all of these five ministries, who shall cooperate in unity. We give ourselves wholeheartedly into the building process of these fivefold ministries.
B. Mandate for Israel
Isaiah 62:6-7 I have set watchmen upon thy walls, O Jerusalem, which shall never hold their peace day nor night: ye that make mention of the LORD, keep not silence, And give him no rest, till he establish, and till he make Jerusalem a praise in the earth.


o We received the calling to be watchmen for Israel. On regular basis we bring prayers and specific worship before the Thron of GOD for the HIS people in the nation of Israel of GOD. We are committed to the goals of GOD for HIS Nation Israel.
C. We shall have the fullness of spiritual gifts

1Co 14:1 Follow after charity, and desire spiritual gifts, but rather that ye may prophesy.
1Co 14:12 Even so ye, forasmuch as ye are zealous of spiritual gifts, seek that ye may excel to the edifying of the church.


We shall release the fullness of spirtual gifts in the HAUS DES GEBETES FÜR ALLE VÖLKER Koblenz.

We love to encourage every believer through healings, deliverances, worship, powerful teachings to walk in the Spirit of wisdom and revelation, godly LOVE, prophecies, supernatural financial blessings, grace in relationships, signs and wonders, sanctification for JESUS…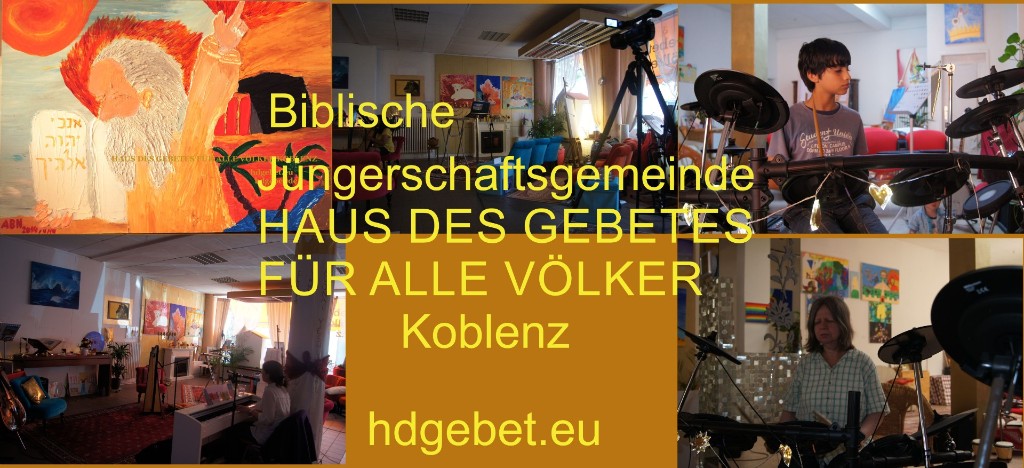 o Representatives of every generation join our discipleship. We are as weak and as strong as other men and women of GOD who did mighty works of JESUS and do them even today.
o The only precondition to do the works JESUS did is that we believe in HIM according to HIS word, which is given us throught the HOLY BIBLE.
Joh 14:12 Verily, verily, I say unto you, He that believeth on ME, the works that I do shall he do also; and greater works than these shall he do; because I go unto MY FATHER.

o We shall be deeply rooted in GOD´s LOVE in everything we do.
D. Active engagement for the Awakening in Koblenz
Jer 29:7 And seek the peace of the city whither I have caused you to be carried away captives, and pray unto the LORD for it: for in the peace thereof shall ye have peace.
o Streams of blessings from GOD will be released for the people of the city of Koblenz through our prayer and our worship. As a result more and more people will be delivered by the truth of GOD, strengthened and renewed.
o We pray daily for fresh revelations, wisdom and knowledge of JESUS CHRIST to be released on the people of this city. We long for breakthroughs of the LOVE and Righteousness of GOD.

E. Daily prayer for Revival in Germany
GOD´s plan is revealed in the HOLY Scriptures, that whole nations shall enter into a live of faithful FAITH, obeying the WORD of GOD and being active in biblical discipleship for JESUS. This Great Commission had been given to the apostles and even today apostles are in first responsibility bevor GOD. We as an apostolic lead church are challenged to build up and plant new churches with biblical apostolic standards. Daily we pray for the realisation of this great goal. All glory belongs to JESUS CHRIST!